Two Kappabashi Streets

Even Tokyoites and Wikipedia may be confused by the two Kappabashi Streets (かっぱ橋通り):
Kappabashi Hon-dori (Main) Street (かっぱ橋本通り)
Kappabashi Dougu (Kitchenware / Utensils) Street (かっぱ橋道具街通り)
Kappabashi Hon-dori Street is known as the shortest route from Asakusa to Ueno, And also known as one of the best view street of the Tokyo Skytree. It is also famous for Shitamachi Tanabata Matsuri Festival in July.
Kappabashi Dougu Street is known by a wide variety of well-priced and unique kitchenware and realistic food samples. It is also famous for Kappabashi Dougu Street Festival in October.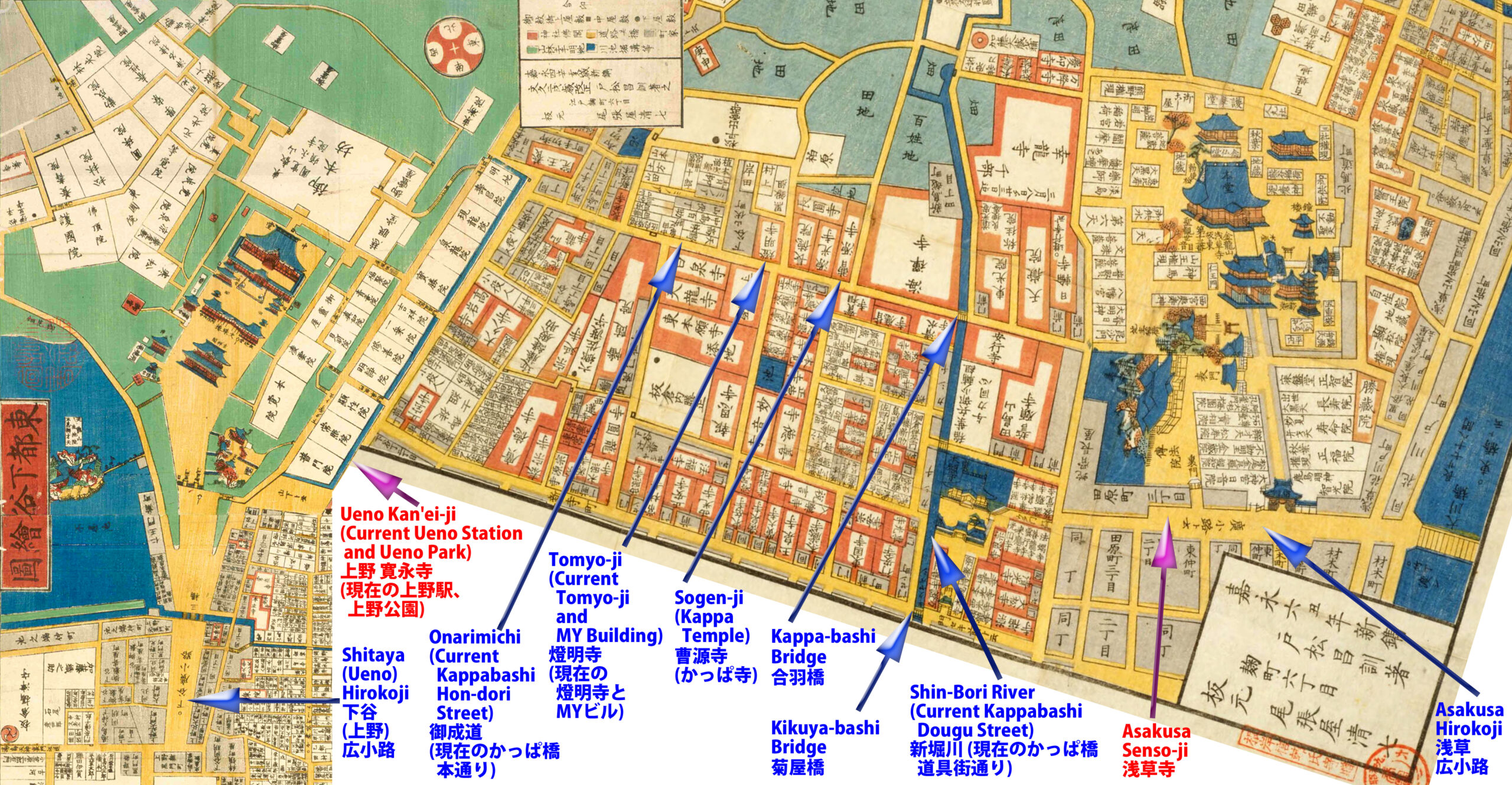 Edo Kirie Map 江戸切絵図 by goo地図  Asakusa 浅草   Ueno 上野

Originally in the Edo period, Kappabashi Hon-dori Street was called "御成道 (Onarimichi = Shogun's road)". It was made for Tokugawa Shoguns and high rank priests to connect the two most important temples: Ueno Kan'ei-ji, one of the two most important Tokugawa family temples and Asakusa Senso-ji, Tokugawa tutelary temple and the oldest and the most popular temple in Edo. After that, this street has flourished as the direct route between the two most popular places in Edo. After the Edo period from 1882, a horse-drawn train used to run.
In 1927, the first subway line in Asia opened from Ueno – Inaricho – Tawaramachi – Asakusa at the south of the street, and became the main way to connect the 2 most popular towns in Tokyo City at that time.

Meanwhile, Kappabashi Dougu Street was a river called "新堀川 (Shin-Bori River)". The river was culverted after the Great Kanto earthquake in 1923, and the street used to be called "新堀通り (Shin-Bori Street)" (the street running southward is still called Shinbori Street). After that, trams used to run.

And at the crossing of Onarimichi and the river, there was a bridge called "合羽橋 (Kappa-bashi Bridge)" ("hashi/bashi" means bridge). Two Kappabashi Streets were named after this Kappa-bashi Bridge.
Why this bridge was called Kappa-bashi Bridge?
At that time it was a marshy area and the river often rebelled, so a raincoat merchant called Kappaya (means "raincoat-seller", Kappa means both "raincoat" and Japanese mythical creature) Kihachi (commonly known as Kappa Kawataro) invested his own money to excavate a trench for drainage, but the construction was difficult. It is said that the Kappa of the Sumida River, who had been saved by Kihachi long ago, were moved by their hearts and helped with the construction work, until finally the ditch was completed. Sogen-ji Temple, commonly known as Kappa Temple, has the grave of Kappaya Kihachi. And you can see Kappa Kawataro Statue on the Kappabashi Dougu Street.
In this area, you can see many Kappa statues and pictures, but above all, we local people love so much attractive Kappa girls and boys pictures. Those pictures were drawn by Rakuichi Hagiwara. He used to have painting classes for neighborhood children, and I was one of them. Now, his daughter Sawako Shimizu inherited his name and keeps painting those Kappa girls and boys.